"This Facebook User will be going on holiday to Greece …"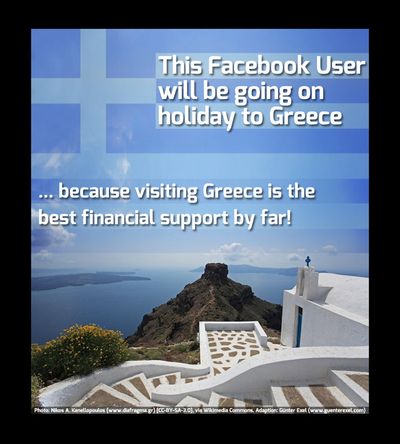 Three days ago, I chose a picture from Wikimedia Commons, did some careful artwork on it and published the result on Facebook, telling that I would spend my holidays in Greece this year: "Dieser Facebook User urlaubt heuer in Griechenland … denn die beste Finanzhilfe ist, in diesem Land Gast zu sein." (www.j.mp/UrlaubinGriechenland)
In the first two days, the picture gained 121 "Likes" and was shared 237 times – not only in German language, but also by users abroad. Since I was asked the meaning of the German words, I set up another version in English (www.j.mp/HolidaysinGreece, later: www.j.mp/HolidaysInGreece):   "This Facebook User will be going on holiday to Greece … because visiting Greece is the best financial support by far!"
A huge boost was done when a good friend of mine, Prof. Dimitrios Buhalis from Bournemouth University started to share the news to his widespread contacts in the international tourism and travel industry. Suddenly, the pictures went viral on an international scale – and especially in Greece where Dimitrios did his very best to alert influencers.
The momentum was there. On the same day, I was asked to publish a header pic for Facebook timelines, too. So this was the beginning of www.j.mp/HeaderAidForGreece – which has started to spread across the internet, too …
More than 1000 shares: The campaign gains momentum
Just one day after the launch of the english sujets, the campaign had gained an enormous momentum. My "Holidays in Greece" sujets travelled all around the world within 24 hours and were shared from New York to Hongkong. All in all, at noon of May 25th, the campaign had already reached more than 1000 shares. Facebook users shared the different sujets in German and English, commented on them and changed their timeline header to the campaign sujet: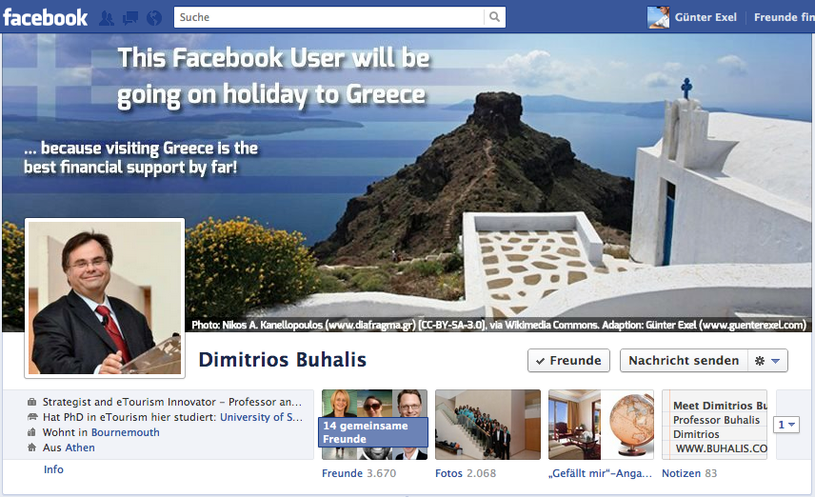 "Proud to have shared this!"
After just a very short time, the campaign managed already to set free a wave of appreciation, encouragement, hospitality and motivation. Some of the statements and comments are gathered in the following gallery:
A lot of comments and sharing texts revealed that the Greece and the Greek people are extremely happy and thankful to be acknowledged because of their unique country and their traditional hospitality – values that are not in crisis even now:
My learnings from this campaign: Travelling to Greece is even more important right now during the crisis. It allows the Greek people not only to maintain their earnings from a key economic sector – but also to keep their dignity. Even more, for foreign guests a visit to Greece offers the chance to break up with prejudices and to gain new respect for the country by experiencing its traditional hospitality. So we can be sure: Greek hospitality is still not in crisis.
I guess, this post by Maria Papazoglou explains why the "Holidays in Greece" campaign reveals so many positive emotions: 
μια απλή και ανθρώπινη πρωτοβουλία, έχει ξεσηκώσει τις τελευταίες ημέρες τα social media κ έχει αναπαραχθεί από μέσα ενημέρωσης, ενώσεις, φορείς τουρισμού και απλούς χρήστες.
Η τεράστια αυτή ανταπόκριση δείχνει ότι χρειαζόμαστε απλά και ξεκάθαρα λόγια για να περάσουμε τα μηνύματα, λόγια που να μιλούν στην ψυχή μας!
ΜΠΡΑΒΟ ΓΙΑ ΤΗΝ ΠΡΩΤΟΒΟΥΛΙΑ!
"A simple and human initiative has revolutionized in the last days; it has been reproduced on social media by the media, associations, tourism institutions and ordinary users. This huge response shows that we need simple and clear words to pass messages, words that speak to our souls!
BRAVO FOR THE INITIATIVE!"
(via Google Translate)
Why did I do it?
Since there have been questions about my motivation behind the "Holidays in Greece" sujets, let me give you some background informations:

No, "Holidays in Greece" is not a purchased activity; I do not get paid for the idea and distribution by the Greek National Tourism Organisation or anybody else. I had the idea and developed the sujets on my own because I felt that the common sentiment against Greece is strongly influenced by media reports and headlines. 

With 20 years of experience in the media and tourism industry, with a lot of visits to Greece and my plans to spend this year's holidays on the Peloponnese, it was my very own intention to set a statement. 

Even more, I am overly happy that these sujets were able to create positive sentiments and an emotional counterpart to the prevailing sentiment against Greece. Therefore, it's only fair to thank everybody who contributes by sharing these sujets – and to change the common opinion about Greece and the Greek people!
"Holidays in Greece" - the campaign on Facebook